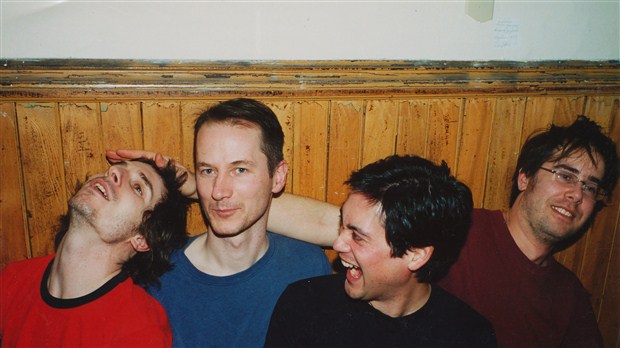 The following piece was published in truncated form on CBC Music. Here's the full version. 
In the summer of 1995, the Super Friendz released their debut LP, Mock Up, Scale Down on Sloan's murderecords imprint. At the time, Mock Up, Scale Down seemed like another exciting document from a prolific Halifax music scene that launched Sloan, Thrush Hermit and Joel Plaskett, Jale, Al Tuck,Buck 65 and more into the national consciousness. But over the years, as young bands like Zeus and the Bicycles touted its influence, the record's status has grown further.
The three-headed songwriting democracy of Charles Austin, Matt Murphy and Drew Yamada inspired legions of fans and younger musicians with their skillfully crafted, explosive, thinking man's pop-rock balladry. Drummer Dave Marsh, with his enigmatic, occasional membership, gave them the perfect rhythmic foundation they found so elusive in an oddly Spinal Tap-ish way (no drummers were harmed in the making of this band but they sure didn't stick around for long).
The Super Friendz played the Halifax Pop Explosion this past October. Their last release was 2003's Love Energy and, before last month's show, they'd been quiet for about nine years. On Friday, Nov. 16, they play Toronto's Lee's Palace and, to mark the return of one of the greatest North American rock bands, an oral history of their formation and first album seemed in order. This is it, here we go.
Cast of characters:
Charles Austin: the Super Friendz, bassist/guitarist/vocalist
Tavo Diez de Bonilla: fan/Jenn Grant/Fembots
Alex Durlak: fan/Standard Form/musician
Jay Ferguson: Sloan/murderecords
Darcy Hancock: fan/Ladyhawk
Matt Hart: fan/the Russian Futurists
Samir Khan: fan/Tusks
Colin Mackenzie: murderecords/the Super Friendz manager
Cam Malcolm: fan/Huron
Dave Marsh: the Super Friendz/Joel Plaskett Emergency, drummer/vocalist
Brenndan McGuire: engineer/producer
Chris Murphy: Sloan/the Super Friendz/murderecords, drummer/producer
Matt Murphy: the Super Friendz, guitarist/vocalist
Mike O'Brien: fan/Zeus
Allison Outhit: fan/Rebecca West/Haligonian/FACTOR exec
Drew Smith: fan/the Bicycles/Dr. Ew/Gentlemen of Leisure
Catherine Stockhausen: fan/photographer
Paul Thompson: fan/Darlings of Chelsea
Donovan Woods fan/songwriter
Drew Yamada The Super Friendz – guitarist/vocalist
Rescued from Boredom: earliest days
Jay Ferguson: I went to school with Matt starting in Grade 1. I've known him since 1974 and we went to the Halifax Grammar School — a private school, also nicknamed the 'Halifax Glamour School' — from grade one to grade 11. He left in grade 11 to go to Q.E.H., Queen Elizabeth High School, which was public, bigger, a lot more people with a more social atmosphere probably. I didn't really see him as much anymore. I had a band with a couple of friends in grade 12 and then some people went away to university. In his first year of university, Matt joined our band. It was called the Deluxe Boys, it was mostly 60s covers like 'Louie Louie' and it was basically a garage band. Matt, who was a great guitar player, joined our band on drums and that lasted a year. He was a good drummer too and he didn't take any lessons.
Matt Murphy: Yeah, no lessons for sure. For drums? No. And I was terrible. I was a pretty bad drummer. 10 out of 10 for enthusiasm. I was OK, I just remember being pretty tired after every song. I liked to do lots of fills.
Jay Ferguson: I think there's some musicality in his family as well. Like, his brother Luke could play and his dad played banjo. I don't think Matt took any lessons at all. He's just a quick study and a fantastic, super hot guitar player.
Matt Murphy: My dad played fiddle and banjo and he still plays banjo. And tin whistle, or anything he picked up really. He can yodel really well and my brother was a yodeler too and a guitar player. So I learned guitar from him to start. He taught me 'The Kids Are Alright' by the Who and that's what I played for two years when I was 15. I played violin before that and took lessons but dropped that when I was in grade 8 and wanted to be cool. In terms of the kind of music I make now, it's a lot through my brother. He had a band called Red Leader, which was kind of a mod group. He'd host parties at my parents' house where one band was upstairs and one was downstairs. I'd be running around, taking it all in and making sure all his friends weren't hitting my parents' liquor cabinet too hard. Sort of a miniature hall monitor at the party.
Drew Yamada: I started playing guitar when I was 17 after summer camp. So, Neil Young and 'Four Strong Winds' and that kinda stuff. I grew up in Toronto but moved to Halifax in 1988 and the day I got here, I met Charles. He had just moved here as well and he had a guitar so we started listening to music. I was more familiar with 60s stuff and was a metalhead in high school. Charles turned me onto the Replacements and the Meat Puppets and a whole bunch of stuff I'd never heard before that had a huge impact on me. Charles and I started playing coffee houses and then we started a band called Rhinoplasty. The lead singer was Greg Tymoshenko who later on had a band called the Leather Uppers and a drummer named Chris Jonah from Moncton who was kinda beefy and Ramones-y. We played some shows in around 1990 and that was my first band.
Matt Murphy: I was a pretty hyper kid and a pretty hyper person. It was fascinating when my brother's friends would come over and play music live. I was pretty interested in hanging around and seeing how they did it and maybe making some noise on the guitars. But I really didn't learn how to play anything until I joined a band. Before Deluxe Boys, I was in a band called the Ink Stains in grade 12. Such a crappy name. It was with high school friends like Henri Sangalang, whom I later played with in the Flashing Lights. There was a really good guitar player in the band named Rod Weir and he taught me how to play all my favourite songs that we ended up covering. That's basically how I learned to play, by joining a band. And from there, Deluxe Boys needed a drummer and I liked their vibe. The first time I played with them was in the back of a pick-up truck at a Naval Day parade in Halifax.
Chris Murphy: I met Matt in 1986 when he and I were messenger/porters at the Victoria General Hospital in Halifax. He introduced me to Jay Ferguson and Henri Sangalang.
Jay Ferguson: Matt moved away to university and I didn't really stay in touch with him very much. At some point he became best friends with Chris. Matt moved back and played in a band called Blackpool for a while, which Chris had even played bass in near the beginning of Sloan. It's a tangled web but the thing is, we knew what he was up to and he was always a talented guy and a big music fan.
Matt Murphy: I was probably writing my own songs around this time, goofing around by myself and writing terrible songs but never playing them live. Blackpool's songs were pretty well thought out and structured and a pretty good template to learn from.
Chris Murphy: Matt and I played 60s covers with Henri and a couple of other guys before Matt went to McGill. While Matt was gone, Henri, Jay and I formed a band in Oct. 1987 called Kearney Lake Rd., which lasted 3 years or so. A contemporary of Kearney Lake Rd.'s that we loved was a band called Rhinoplasty. I believe KLR's last show was with them. Matt came back from McGill and we already had Sloan going (otherwise I would have had him in our band—stupid McGill!). He got really good on guitar while at McGill and he played with some local bands when he got back before he hooked up with Charles and Drew.
Drew Yamada: Charles was playing in other bands and I was doing a lot of theatre stuff as well. Matt and Charles were playing with Al Tuck for a while and, one summer or early autumn, maybe around 1992, Matt and I began trading off songs in his parents' basement. That's the first time I was ever writing songs and we started doing it with Charles too. That was all on acoustics in the basement and eventually we decided that we should start playing shows. That's when the endless search for a drummer began.
Matt Murphy: I met Charles through playing with Al Tuck and met Drew through him. They were college roommates and we just started to play each other's songs. It wasn't really until I hung out with Drew and Charles that I started to play my songs in front of people. I was more interested in supporting other people's stuff. The way I learned to write songs was the way I learned to play guitar; doing it before you even knew how and learning as you go. That was pretty formative, that first phase with those guys.
Charles Austin: It was just three guys who didn't have a band. We seemed to get a long and just wanted to do something. Backing up Al, some nights it'd be awesome, some nights it'd be a disaster. We just wanted more control and something more focused because we're all nervous, overachieving people and we approached it rather industriously. Once we got down to it, we worked really hard.
Up and running with a SFZ single and Sticktoitiveness
Matt Murphy: I was in journalism school and we started to play some shows. I was on tour with Sloan that summer on their first American tour, selling shirts. I remember that I had to figure out what I was gonna do in the fall and I picked journalism school figuring I could do that and still make music. Things started happening pretty quickly after that. We started playing shows, recording demos and made a single. None of us were the frontman in any bands so this seemed like a good, low-pressure, comfortable way to test the waters with songwriting, which can be pretty terrifying.
Charles Austin: Pretty much everybody wrote their own songs but then we arranged them together. Matt definitely had good arrangement ideas then, like breaking up the guitar parts so they're more fractured. It's pretty obvious when I listen back now that Television was a big influence for the guitar arranging.
Jay Ferguson: I can't even remember the first time I saw Super Friendz but it would've been around 1994. We'd been friends for so long that we would've known about it immediately. It wasn't like, 'hey, who are these new guys?'
Drew Yamada: I don't remember how we met Cliff Gibb. He may have been in a band called Weasel-Faced Judge but not Thrush Hermit yet. The first couple of shows we played were with Cliff on drums. I think? I just dug up one of our first set lists and there were three or four songs I didn't recognize at all.
Matt Murphy: I dunno what the first song we worked on would've been. There was a song called 'Syrup,' which was a nickname. It was a riff from Charles and a couple pieces from me and Drew. We played it live. There was no singing but it was a bit of template for us. A bit like Sonic Youth-meets-Swervedriver. There were songs that fell by the wayside too, like I had one called 'Triple A,' which got ditched.
Drew Yamada: 'Triple A' was in reference to three different girls whose names began with the letter 'A.' That's what it was about!
Charles Austin: I really liked Uncle Tupelo and Matt, who loved really authentic old country, didn't like that stuff at all. Matt really liked mod pop stuff and he really got us into the Kinks and they were pretty big for us. Drew and I really worshipped Neil Young and the Clash. Drew used to be into metal and Venom.
Drew Yamada: There's no question that some of the early common ground was in 60s stuff, so Beatles, Stones, and Kinks for sure. I know the Clash played a role in it and while I became a big fan of things like the Replacements and Dinosaur and had this metal background, that stuff just never made it into my writing a whole lot. Neil Young was another thing for all of us and then Buzzcocks and Television and other New York punk was a bit of a template. We were conscious of creating space in the music. Matt's a pretty skilled guitar player and we always made stuff to give room to the different components and instruments in the band by taking time to listen to each other.
Charles Austin: The thing about the distorted stuff is that we loved that stuff but we also felt that it'd been done really well by other people. A lot of people were copying Sloan and they were inspired by My Bloody Valentine and Swervedriver. We were already getting enough Sloan comparisons as it was because there was a guy named Murphy in the band. So we wanted to get away from that and carve out something different.
Drew Yamada: Cliff Gibb from Thrush Hermit was the very first drummer we had. Then we had Chris Murphy, Dave Marsh and then Lonnie James. I would presume it was something wrong with us, rather than them. They all had bands when we started playing with them. Dave Marsh had been playing a while already and didn't wanna play in something that was just starting out at the time.
Dave Marsh: I definitely moved into guitar and songwriting so that was a difficult thing to bail out of. I remember seeing the Super Friendz at the Khyber and it was really great and I really loved the songs.
Matt Murphy: I remember early on, Chris was really interested in what we were doing and encouraged us to record that single for murderecords. He played drums and we recorded that on a four-track in his apartment.
Drew Yamada: The fact that he had the access to that technology, I just assumed that was how it was done. I remember being excited as hell and thinking, 'Man, this is all it takes to get it on a record.' The process seemed pretty awesome. I've still got one of the test pressings of that single.
Chris Murphy: They didn't have a drummer when I recorded two songs with them for a 7" that we put out on murderecords. Those songs were 'Come Clean' and 'When They Paid Me,' both of which were re-recorded on Mock Up, Scale Down.

Matt Murphy: We recorded Sticktoitiveness that winter with Brenndan McGuire because he was making a Jale recording in a house. All the stuff was set up so we decided to just burn in there and record our demos.
Drew Yamada: A whole bunch of other bands snuck into this house in Chester, Nova Scotia to make recordings there while the gear was set up. I think the Hardship Post recorded a single, Al Tuck recorded his first album and we recorded Sticktoitiveness, all within a couple of weeks. That was the first time I'd met a professional engineer.
Brenndan McGuire: I had met Matt before that time but had no idea that he was such an accomplished musician. He came with Charles and Drew and Chris Murphy sat in on drums. We recorded and mixed a bunch of songs all in one evening.
Matt Murphy: The stuff on Sticktoitiveness is some of the first stuff we ever played together. 'Karate Man' was early, as was '10 lbs.' The version on the tape is completely different, pace-wise. It has what Marsh calls the 'Philadelphia beat.' Murphy lifted it to play it for the tape.
Drew Yamada: That song of mine 'Undertow' was pretty early on. Matt was writing 'Karate Man' very early on. He had some songs I hadn't remembered until I saw this early setlist. They were more ballad-y and about wooing young ladies.
Jay Ferguson: Then they started recording the album in December 1994 in a house with Brenndan, who was our live sound engineer. The picture on the inside of the LP is where they recorded and Brenndan was trying to make a studio out of a house.
Making Mock Up, Scale Down
Charles Austin: Me and Matt were roommates at a house on North Street in Halifax and we had two other roommates. We decided we were gonna do the album at our house with McGuire. He brought in a tape machine and a board and I feel really bad for what happened to our roommates because it was super loud in there for two weeks. I remember walking home one night at three in the morning and Matt was doing guitar overdubs and I could hear him a block and a half away. And this was residential Halifax.
Matt Murphy: We made a lot of noise and our poor roommate Rob—or maybe it was Andy—got the shaft. We basically took over the house without even asking and started making a record. It was a pretty typical young guy thing to do.
Drew Yamada: The recording room was draped with blankets and pillows and baffles so it was like being in a yurt. And it was so friggin' dusty but I remember thinking it was like a fort to hang out in and it was fun as hell to go and do the stuff. It was such an amazing luxury to have so much time to work on something but then, the next thing you know, it's all used up.
Charles Austin: Brenndan was the engineer/co-producer and he did a really good job. He was a young guy who knew where we were coming from. We wanted to make a dry record and didn't wanna use distortion because at the time, everyone was using gobs of distortion. We wanted to differentiate ourselves so it's a pretty clean record in that regard.
Matt Murphy: A lot of the songs from the tape ended up on the record. I was living with Charles and we'd be demoing on four-tracks in our bedrooms, right next to each other. The drummer situation was a bit confusing.
Dave Marsh: Matt and I had played in a band previously called No Damn Fears, which was basically my band from Halifax with Andrew Scott on drums, Jenny Pierce from jale on vocals and Matt on guitar. In Halifax, we all knew each other any way. We recorded a cassette that I think was called Spring 1990 even though it was recorded in '89. It's rare but it's out there. We stopped playing around '91.
Matt Murphy: I also played with him in Blackpool. I just knew he was quality and the best around by far. We just begged him to learn the songs and play on the record. He was reticent to be a drummer. He was a songwriter and he wanted to play guitar. We heaped enormous praise and flattery upon him and fortunately he said yes because his drumming kind of makes the record.
Dave Marsh: Drums were my first instrument. I'd been playing them since dad got me the snare drum for Christmas and I went apeshit.
Matt Murphy: I don't even think he practiced that much for it, maybe a couple of weeks and then we did our first tour with him when we opened for Sloan in the fall of '94.
Dave Marsh: There were like four songs I heard from that tape and I kinda followed what Chris had done. The rest were introduced to me at that house on North Street where we did the album. Y'know, I just did my thing man, helped shape the tunes a bit, scraped the barnacles off and helped bring them into decent shape.
Matt Murphy: He'd arrange his drum parts and we'd change our songs according to what he wanted to do because we had a lot of respect for him. That's why the beats changed so much from the tape to the album. Chris had a lot of influence too but with Marsh, we catered our playing to him more.
Dave Marsh: Matt's one of my favourite performers, guitar players and songwriters of al time. Anything he does, I'm willing to give it a listen for sure.
Charles Austin: I remember saying to Dave, as we were starting, 'Oh, this is probably gonna be pretty easy,' and he was like, 'There you go; you just jinxed the whole thing.' But it was a pretty good process. It definitely wasn't easy but I just remember it being a lot of fun and we got pretty excited doing it.
Matt Murphy: Brenndan is a force to be reckoned with. He's very focused and had strong ideas about what he wanted and I remember that we all butted heads. The fact of the matter is, what we wanted, we didn't know how to articulate. We must've been very frustrating to work with. Just pulling out reference CDs all the time. Like, 'This should sound like 'Complete Control' by the Clash, or this should sound like Big Star and this should be the Byrds or the Meat Puppets. And he'd be like, 'OK, you guys are throwing a million visions at me at once. Let me tell you what a singular vision would be and that is my vision.' We had a hard time adapting to that but, in the end, I think it worked.
Brenndan McGuire: We had a tape machine, a board, some mics, some instruments and two weeks. We were clear and focused in the process. It was easy. Great musicians, great songs. We kept it simple.
Charles Austin: We were neophytes. Before that, it was four-tracks all the way. We didn't even have the songs arranged and I was learning to play bass because I'd been a guitar player up to that point. For me, it was definitely intimidating, just learning to play bass as we were starting the band. I always wanted to put in weird harmonic things that a guitar player would so I was trying to get that sorted out and learn how to play with the drums.
Drew Yamada: I remember I had this song that I wanted to do some yelling on and Brenndan just said, 'There will be no yelling on this album!'
Dave Marsh: I have pretty well nothing but good memories of that session. You can see in a picture in the album of how we were set up. Brenndan was a character but he knew what he was doing so that was impressive. I don't remember him telling me what to do so much. Good luck to him had he tried.
Matt Murphy: I personally felt pretty good about it and that he really helped us hone our parts and do some subtracting with our playing. I tend to be a bit busy on guitar, so simplifying and getting it down to its essential part—he's very talented at that. And he was very hard on us for sure with our singing and playing but I love the guy.
Drew Yamada: He really helped me in evolving a style of playing that was gonna complement what the band was doing. He didn't think I was going rogue, as much as ADHD, just too all over the place. He suggested ways to trim and tailor it and I was always really grateful for that. He'd heard the band and decided this would shape it into something that was dry, creating a lot of space in the songs and give them structure.
Charles Austin: I know we started mixing it with Brenndan in a studio where the monitoring was all f—-ed up and he was like, 'I can't mix it here.' So we went back to this place he had in Toronto called 'Tiny Town,' which was basically a closet and we mixed it there, which was awesome. That whole process was great and I gotta give him some props.
Matt Murphy: We'd been in this supportive atmosphere between the three of us and then we get into the studio and get told we can't play or sing, our timing is shit—it was a bit of a shock. But a useful shock. Like most bands, you should come out of the studio a better band with better ideas for playing songs.
The Chris Murphy situation
Charles Austin: Marsh quit after Mock Up, Scale Down and Chris was hanging out a lot by then.
Jay Ferguson: I don't know exactly why Chris wasn't on the record because that's him playing on the seven-inch beforehand. Then he was like, 'I'm gonna go tour with my best friend Matt.'
Chris Murphy: Sloan was breaking up in December 1994, which is right when the Super Friendz were about to make Mock Up, Scale Down and I was kind of wishing that Matt would start a band with me or that I could join their band. I didn't play on the record but I did play drums for them while Sloan was on hiatus during most of 1995.
Colin Mackenzie: When Chris played drums with the band he was like a crazy man. Playing like Keith Moon, a mad man having a blast. I think he really really wanted to be the permanent Super Friendz drummer and was kind of bummed when everyone realized he couldn't do it.
Charles Austin: We probably didn't realize how great a drummer Dave was at the time. You see him now with Joel Plaskett and it's clear that a great drummer is the foundation for that great band. We would've been wise to have someone like that behind the kit the whole time. Where someone like Chris, he had so much charisma and was known so well, the shadow of Sloan dogged us at every turn. You get the lead singer of Sloan playing in your band, people notice. He's an awesome drummer and has amazing arrangement ideas and is incredibly smart. But we felt, to a certain degree, it may have been better for us to make our own mistakes.
Chris Murphy: The Super Friendz already had a band dynamic as complicated as any other but having me tagging along didn't help matters. From my point of view, I thought playing drums on tour with the Super Friendz was going to be 100 percent good times. Sloan had ended up with bitter feelings in the band and with our U.S. label and the whole idea of 'making it' and all that crap so I was ready to have fun. What was the pure pleasure of playing music with friends for me ended up further complicating things for them.
Jay Ferguson: He went on tour with the Super Friendz in 1995 and I think he fought with Matt a bunch of times. I think, and Chris might agree, that he thought the utopia of touring with your best friend would be the perfect situation but in reality, it had its problems as well. He found himself in another band that had problems.
Matt Murphy [Chris] was super funny and fun to have around and is an immensely entertaining person. At the same time, he's funny because he can really hit the hot button issue for effect. And so, in our band, he quickly recognized where the tensions existed and, to put it crudely, could exploit them for laughs. That's the kind of person he is; he likes to be a bit controversial But he was enormously supportive of me and my vision and was maybe less attuned to where Drew and Charles were coming from. That was always my impression.
Chris Murphy: I was Matt's best friend (he was mine anyway) and as much as I was an advocate of the democratic band, I must have been seen as a wedge from Charles and Drew's point of view. Charles is the nickname king. He would most often refer to me as 'Bowl Master,' 'Bowlie' or 'Maestro del Bowl' with reference to my bowl cut hairdo. During my tenure as the drummer for the Super Friendz, he referred to me at least once as 'Divide and Conquer.'
Matt Murphy: I mean, one of the big unspoken Super Friendz issues was who was gonna play bass. Charles, who's a fantastic guitar player and wrote great lines like the one in 'Down in Flames,' had to sacrifice himself and say, 'Well, I'll play bass I guess.' We're all so polite. Why didn't Drew or I play bass? Why didn't it move around? I know that it must've been hard for Charles to watch me play that awesome lead line with people assuming I'd created it. That's how I would feel. So, that would be one thing and we would never talk about it and then Chris would say 'You guys, let's talk abut this; how come Charles is playing bass?' That kind of thing. And we wanted to keep the peace and were afraid that by talking about those things, it all wouldn't last.
Drew Yamada: Chris Murphy's a pretty funny dude and it didn't hurt to have someone with his profile around but on the other hand, it was hard not to feel like a sideshow for him. It was also emblematic of the fact that we didn't have a drummer and he was good enough to do that and help us out.
Charles Austin: He was there for a year and realized that all bands have their problems. We were trying to figure out what the hell we were doing and who we were. A lot of strong personalities, driving in a van for long periods and not making much money. It was lots of fun but there was friction for sure. There were more laughs than not laughs but there can only be so many cooks.
Chris Murphy: Sloan decided to break up and I admit to wishing Matt would join forces with me and give me a second act but he was way down the road of recording the record and that was that. When I was asked (was I asked or did I ask them?) to drum for them on tour I don't remember a conversation about whether or not I was joining the band full-time. I remember thinking about that as an option for me though it may have never been an option as far as their band was concerned.
Drew Yamada: He makes you laugh no matter what so it's pretty fun in that respect. But Charles and I had been friends for a long time and he and Matt were friends for a long time so that was bound to create some friction as well. There were varying interests, right? It was just figuring out the dynamic between us. If it wasn't for Chris, we couldn't have done it.
Chris Murphy: I share Matt's last name and though unrelated, over the years lots of people asked me if we were related and I told everyone that we were brothers. I thought it was fun but Matt still gets asked about it. And it was always, 'Chris Murphy's younger brother' but not only is he older (not much) I learned way more musically from him than he did from me so that surely drove him crazy.
Matt Murphy: When Chris was on tour with us, he's just a natural centre of attention. Any time he'd run up to talk to the promoter, we'd sorta get our backs up. Like, 'Geez man, he's representing our band now.' He didn't mean anything by it; he's just a naturally outgoing person. But for us, it was like, when are we gonna have our own identity? When you're on tour and travelling in your band, you're touring your music but the distraction is, you got the guy with Sloan travelling with you. Even though we were 24, 25, it does bring up adolescent feelings of jealously and envy and things like that.
Chris Murphy: Luckily, there was never a fight where I was kicked out or quit. It wasn't long before I was recording the next Sloan record, which was probably an enormous relief to all of those guys. It wasn't 100 percent fun the way I was expecting but I love that I got a chance to play with those musical heavyweights who were also extremely nice and funny.
The Mock Up diorama and mysterious photo re-enactment
Drew Yamada: Charles came up with the album title. It was about his concept of a recording representing a band. It's like playing live and you try to reproduce that for a record, he was jabbing at the recording being a model for what you're trying to do on stage.
Catherine Stockhausen: I had already begun shooting a lot of the murderecords roster, so I guess I was the natural choice to shoot Mock Up, Scale Down. I remember the front and back cover diorama was all from the man-child brain of Charles Austin. I just took the picture.
Charles Austin: Me and Matt built those things. We just thought it was cool. Y'know how people now think strategically with Facebook and twitter and hammering on this marketing stuff? We just did things because we thought they were cool and exciting. I have some of the stuff. I saw some of it downstairs. But that one amp is supposed to look like Matt's amp, that wicked amp he's got. It's like the best guitar amp ever made.
Drew Yamada: I thought it was an awesome cover and looked almost like the gear we had. It went with the name and it was nice to fabricate that. The shirts we made recently have those on the front and they look nice.
Dave Marsh: I'm a little older than those guys so I thought it might be the beginning of the end of civilization when I saw the cover. I was kind of right in that it ushered in that super twee-ness that I really despised about the early 90s indie scene. So, it looked a little twee to me but, once you grow accustomed to the album, the cover relays that anti-star, more fun togetherness.
Jay Ferguson: That's the murderecords office in the inner photo and Colin Mackenzie there, who did the day-to-day of murder and managed the Super Friendz.
Catherine Stockhausen: I took a photo of the band and then we reenacted it in the murderecords office with head honcho Colin Mackenzie standing in for Dave Marsh who I guess wasn't available that day? We thought we were pretty funny.
Drew Yamada: I don't know who suggested that. We were just taking photographs and I'm glad we did it.
Colin Mackenzie: I seem to remember Matt thinking it was funny and so we did the set up. The murder office was a massive hang out for all these unemployed musicians. It would be a revolving door of folks wandering in, checking on the status of their album, their tour, their video grants. So, I think that photo shoot was an inside joke—a fave type joke at murder HQ. No one had any idea who I was, so that was kind of funny in our eyes.
The legacy of Mock Up, Scale Down and what it says about Halifax '95
Charles Austin: We were pretty proud of it. We did really well with critics and college radio and it was good to get some validation. If you ever wanna keep your parents from telling you 'Get a life,' get reviewed in The Globe & Mail. That'll buy you at least a year.
Dave Marsh: I knew right away it was quality. I knew that at the listening sessions in the evening, that we were hitting something really good and natural. I was well impressed, yeah.
Allison Outhit: One of the great pop records—so refreshingly Squeeze-y! It helped defeat the misconception Halifax was all about 'grunge' when in fact Hali has always been a big bad pop-song loving town. It's in our musical groundwater. We love us some hooks and this record was full of them.
Drew Smith: Each songwriter has great songs on the record. Super guitar interplay between Matt Murphy and Drew Yamada. Matt is a crazy good guitar player. That record taught me a lot about songwriting and arranging.
Paul Thompson: My friends and I were listening to a lot of bands whose merit was measured on how little they moved onstage, how bored they could look, and how poorly they could dress. Then the Superfriendz rolled through town looking like total class (I think Matt was wearing a striped tank top that was covered in some sort of glitter) and they just exploded when they walked on stage. It was a game-changer for me, my band and a lot of the bands around at the time. All of a sudden, it became cool to jump off the drums and run into the crowd, all while playing a guitar solo behind your head (moves that I still employ to this day).
Cam Malcolm: Being a kid and discovering this band was huge. I couldn't believe that nearly nobody in town had heard of them. But that made it all the more precious. I remember going home that night and trying to figure out 'Kiss the Land' on guitar. That song easily rivals anything Ray Davies ever wrote.
Alex Durlak: I played the first two tracks over and over. It wasn't until years later that I really listened to the rest of the album. The riff in '10 lbs' is basically perfect and the harmonies and key changes in 'Karate Man' were so killer, why would I really need to listen to the rest of it? A proper teenage approach.
Jay Ferguson: I think you can hear it in bands like By Divine Right, the Meligrove Band and the Bicycles. I ran into Mike O'Brien from Zeus the other day and he was talking about how much he loves Matt's songs.
Mike O'Brien: I think I first heard it through my buddy Leon who had it on cassette. I went out and bought it on CD shortly afterwards. I listened to it incessantly for the first couple of weeks. I was really into the artwork with the tiny diorama of the stage. I tried to learn some of the songs and remember figuring out how 'Undertow' had that moving G formation thing that was so cool. I also remember seeing the video for '10 Lbs' on The Wedge. At the time we were all really into Sloan and Thrush Hermit as well and Super Friendz soon became my personal favourite of that scene.
Darcy Hancock: I saw '10 lbs' on MuchMusic and fell in love with it right away. I got my mom to drive me to every store in Kelowna and found the CD at Sam the Record Man for $25! Plus tax. I was 15; this was a lot of money for me at the time. I loved the album front to back except for 'Karate Man" for some reason. I didn't like that song until I was in my twenties. I still listen to that album to this day. It sounds timeless to me. It's catchy as hell. They should become a band again.
Tavo Diez de Bonilla: I think it could possibly pass as a new release today to someone who hasn't heard it. Sonically there's not much tying it to 1995. The instrumentation is simple and there are no studio tricks-of-the-day on there to age the record either. It's just four guys with great songs, two guitars, bass, drums and vocals. It sounds like a band.
Samir Khan: It's not that four-piece prep-rock went out of style or anything, but they really captured a particular moment on Mock Up and it's hard to imitate. Their songs are just terrifically smart—check out the way they all start! There's always some cool flip happening. The performances aren't perfect, but they sound like a band enjoying the thrill of discovering how good they are. Anything slicker would have killed it.
Chris Murphy: We thought it was great and it sold pretty well. I feel like it sold 6500 copies, which would have been the best selling, non-Sloan murderecords release by far.
Dave Marsh: It's strange y'know, you meet people who are big Plaskett fans and they start talking about Thrush Hermit. Then you mention you were in the Super Friendz and it really wows them. So I think that album has legs for sure.
Jay Ferguson: I always thought that, in Halifax, it was less about aggression and more about melody and Super Friendz definitely put that to the forefront in a really musical way.
Catherine Stockhausen: I guess the thing about the Super Friendz is they came together out of the ashes of the Halifax Explosion in a way. Sloan was already Sloan, Sub Pop had already come and swept up Eric's Trip, Hardship Post and jale. The guys in Super Friendz were seasoned, not thrown together to try to cash in on the hype. Perhaps the other way to look at that is that they were too late. I prefer to think of them as a representation of great musicality and songwriting without a dated sound. They represented us well.
Donovan Woods: I look at a band like Mardeen, (love them) and they certainly have taken on that east coast sound, that charmingly sloppy, hyper-melodic idea. They're funny too. That's what Canadian music was to me back then with the Super Frendz and Thrush Hermit. Mock Up, Scale Down also seemed highly literate to me at the time. They had words like 'contemporaries' in their verses. It sort of made it OK to aim a littler higher and be smart.
Matt Hart: I see glimpses of that goofy pop spirit in everyone form Born Ruffians to MGMT. I don't think that the Super Friendz had a monopoly on being pop-goofballs but it sure felt like it at the time!
Dave Marsh I think it was unique and if you listen to any of the stuff going on in Halifax at that time, the Super Friendz were definitely different. It's a perfect example really of four musicians coming together and forming a band and recording a great album. It's what every band dreams of and that's what happened.
Charles Austin: I really like it but I tend to hear the mistakes more than the successes. There's some cool sounds, good songs, some really cool guitar playing. My bass playing is really shitty on that record compared to Slide Show.
Brenndan McGuire: I actually didn't know it had any influence. I never got that kind of feedback when it came out. At the time I wasn't happy with it, I thought it could have sounded a whole lot better. I feel it was tracked well but over mixed.
Matt Murphy: Some times I wish things sounded more explosive than they did but I thought the songs came off very well. I don't remember listening to it very much after it came out. Now I can listen to it and that's good, that I can do that without wincing very much.
Drew Yamada: It wasn't a massive commercial hit. We made videos and toured but when we played this show at the Pop Explosion, I thought, 'How many people are gonna show up?' And I have the same feeling about Toronto but we've been lucky along the way. Despite the fact that we've had long periods of inactivity, people have supported us and I'm grateful for it. We had a great time in Halifax so I'm looking forward to Toronto.
Matt Murphy: That I can even listen to it at all is a good thing because I don't typically listen to any music I've made. I can say I'm really happy that people are still interested in coming to see us play. I dunno what the record means now but it must've meant something special then for them and made enough of an impression to make them wanna come see us. That's great and I definitely appreciate that and wanna keep it in mind.
See the Super Friendz on Friday Nov. 16 when they play Toronto's Lee's Palace.


Related:
5 for 20: Matt Murphy of the Super Friendz
The Super Friendz up and running, Mike O'Neill plots new record
Sloan's Chris Murphy: The top 5 songs that my kids are into right now