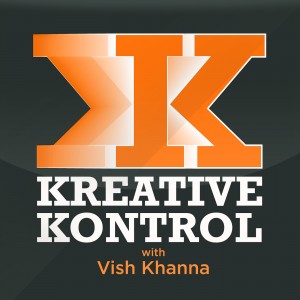 Vish has a number of questions for interesting people who provide a number of answers. Musicians, comedians, writers, politicians, athletes, and more will be featured on this regularly scheduled podcast. Check out the latest episodes here and subscribe on iTunes. Also tune in to hear this show broadcast live on CFRU 93.3 FM in Guelph, ON and enjoy the live stream wherever you are in the world.  For weekly updates, please sign up for the Kreative Kontrol newsletter.
Ep. #18: Colin Stetson + Sarah Neufeld
Ep. #17: Lee Ranaldo
Ep. #16: Bonnie 'Prince' Billy
Ep. #15: Jon Spencer Blues Explosion + catl.
Ep. #14: Tiësto
Ep. #13: Sloan's Jay Ferguson, Chris Murphy, photographer Catherine Stockhausen
Ep. #12: Wondagurl + Simone Schmdit of the Highest Order 
Ep. #11: Maestro Fresh Wes + Diamond Rings
Ep. #10: Sled Island & the Calgary Flood + Houndmouth + Derek Christoff on James Gandolfini + Mike Belitsky of the Sadies
Ep. #9: David Yow
Ep. #8: Josh Kloke on the Tragically Hip
Ep. #7: Jon Spencer Blues Explosion
Ep. #6: Mark Andersen on the Clash + Kid Koala on Space Cadet
Ep. #5: Exclaim! Editor James Keast at a Blue Jays game
Ep. #4: Jim Guthrie Band D.C. road trip featuring NPR's Bob Boilen and Robin Hilton
Ep. #3: Graham Wright of Tokyo Police Club
Ep. #2: Dave Bidini on Rob Ford, Bruce and Travis Good of the Good Family, Carly Lewis on summer fests, Sam Baijal on the Rolling Stones
Ep. #1: John Cook of Gawker, Tyler Francks
E-mail me about show things "Like" it on Facebook, follow it on twitter, follow me on twitter for updates, or: