Vish used to organize one benefit concert a month when he worked for CFRU. He called the series "RYV," which stood for "Raise Your Voice." Since leaving that position, he's started his own series under the banner KYEO, which is a reference to a Fugazi song of the same name. Shows were at one point co-presented with John Bonnar of the University of Guelph's Central Student Association, usually occurring at the Ebar (41 Quebec St.) in Guelph, and beneficiaries include the Guelph Food Bank, Out on the Shelf, and the Canadian Cancer Society.
In Support of the Canadian Cancer Society
KYEO, Kazoo!, CFRU 93.3 FM, and the CSA Present:
Stay Out of the Mall XVII
Featuring:
Saturday December 15, 2018
10C Shared Space
42 Carden Street
Guelph, Ontario, Canada, North America, Earth
Tickets sold in advance via eventbrite and at the door:
$10 w/non-perishable food donation
$12 without
AA/Lic./Physically Accessible
Doors at 7 PM
About the bands:
Renowned for their cross-genre exp erimentalism, unabashedly unique, WHOOP-Szo is a wild fusion of folk, metal, pop, grunge, and even classical musical stylings. Though radically diverse in tone, WHOOP-Szo has crafted their many sounds well, and are able to create immersive musical tapestries that evoke deep emotions while conveying troubling stories of civil unrest via layered harmonies, churning guitar, gritty synth, and a whole psychedelic plethora of other noise.
Music aside, WHOOP-Szo is well known for the boundaries that they have bridged between social work, activism, and music making, not only in their hometown of London, Ontario, but also in various communities across Turtle Island. As a band fronted by an indigenous artist, album and song themes often focus on issues like colonization, language, self-determination, and appropriation. Outreach feats include the creation of an Inuit Youth silkscreen apprenticeship program in Salluit, QC and workshops on Solidarity Through Art in Kingsclear First Nation, NB amongst others.
shaw-han liem lives in toronto and makes music under the name "i am robot and proud".
Between 2006 and 2015 Steven Lambke wrote and performed as Baby Eagle, releasing the albums Baby Eagle (2006 Outside Music), No Blues (2007 Outside Music), Dog Weather (2010 You've Changed Records), and Bone Soldiers (2012 You've Changed Records). He has performed at readings, concerts, events and festivals across Canada, including tours with Ladyhawk (2012), Julie Doiron (2007), and Christine Fellows (2007), and appearances at POP Montreal, Halifax Pop Explosion, CMW, NXNE, Sappyfest (Sackville, NB), Lawnya Vawnya (St. John's, NL), In The Dead of Winter (Halifax, NS), and The Summer's End Folk Festival (Grand Manan, NB). A new album, Days Of Heaven, will be released in October 2015. It is his first album released under his own name.
In September 2013 Steven Lambke contributed to the collaborative musical project Community Theatre, performing and recording the Northern Register LP in Whitehorse and Dawson City, YT with Michael Feuerstack, The Burning Hell, Shotgun Jimmie, Marine Dreams, Wax Mannequin, and others. In 2013 Steven Lambke was short-listed for the SOCAN Songwriting Prize for Mule In The Flowers from The Weather Station Duets #2, written in collaboration with Tamara Lindeman (The Weather Station). He has performed in a duo with John K Samson at the Canada Pavilion at the 55th Venice Biennale, Italy, in May 2013, and at The Writers At Woody Point Festival in Woody Point, Newfoundland, August 2015.
In 2009, Steven Lambke and Daniel Romano co-founded You've Changed Records, releasing, in addition to their own records, albums by The Weather Station, Shotgun Jimmie, Apollo Ghosts, Richard Laviolette, Marine Dreams, and Nap Eyes.
Steven Lambke is also a member of the Constantines: young hearts be free tonight.
We, Colleen (Coco!) Collins and David (Dave!) Trenaman, met on a bus to a rave in London, Ontario, Canada
in about 1994. And Construction & Destruction started in about 2005, or so.
We've been together for more than half of our lives, and currently work out of Port Greville, Nova Scotia, where we've lived since 2003 in an old house by the sea.
We keep things yar by sharing song-writing, instrumentation, art and production duties.  And all other general rock and roll duties.
We seek to put to song the universal grammar of the heart, and record, ourselves and others, in the Quarantine: our living-room studio.
FINIS
In Support of the Canadian Cancer Society
KYEO, Kazoo!, CFRU 93.3 FM, and the CSA Present:
Stay Out of the Mall* XVI
+ Vish's 40th Birthday
Featuring:
Friday December 15, 2017
Red Papaya
Old Quebec Street Shoppes
55 Wyndham St. N. Guelph
Tickets sold at the door:
$10 w/non-perishable food donation
$12 without
AA/Lic./Accessible
Doors at 8 PM
*wherever possible

About the bands:
King Neptune & His Tridents is a 12-piece musical outfit consisting of talented artists and multi-instrumentalists exploring varied musical backgrounds and influences. Over the past 15 years, they've become renowned as one of Ontario's most spirited and eclectic special events bands and have covered every musical genre you can name. Featuring members of the Skydiggers, Black Cabbage, MINOTAURS, Nathan Coles Outfit, the Neutron Stars, and other musicians from Guelph and the GTA, the Tridents will make you move.
Al Tuck was born in Summerside, Prince Edward Island, the son of editorial cartoonist and Anglican cleric Canon Robert Tuck. He attended the University of King's College in Halifax, Nova Scotia and began appearing in Halifax coffeehouses and college pubs, either as a solo performer or with his first couple of bands, namely The Columbia Recording Artists and The Bluegrass Lawnmower.
His formation of the trio Al Tuck and No Action (with various musicians such as Tracy Stevens, Dave Marsh, Henri Sangalang, Matt Murphy, Charles Austin, Paul Mandell, Phil Harmonica, Harry Norris, Devon Henderson, Angus Parks, Benn Ross and Brock Caldwell) coincided with increased attention on the burgeoning Halifax independent music scene in the early 1990s. This led Tuck to a recording deal with Murderecords, the boutique music label managed by Halifax pop act Sloan, a nomination for an East Coast Music Award (ECMA) and an appearance at Lollapalooza.
Over the years Al has shared the stage with Garth Hudson, Ramblin' Jack Elliott, Vic Chesnutt, Calexico, Feist, Sarah Harmer, Hayden, Oh Susanna, Tom Russell, Superfriendz, Hardship Post, Eric's Trip, Howe Gelb, Old Man Luedecke, Buck 65, Matt Mays, Joel Plaskett, Julie Doiron, Catherine MacLellan, Soundgarden, Nine Inch Nails and Marilyn Manson. He has toured the British Isles and played to receptive crowds on the alt-country circuit there, receiving his first mentions in the overseas press including a blurb in the authoritative monthly Mojo Magazine. To date Al performs regularly, never playing the same show twice. As his legend grows he continues to live the life he sings about in his songs, keeping his lamp trimmed and burning.
Bonnie Trash is a cool, arresting new rock duo consisting of twin sisters Emma and Sara BV. Based in their hometown of Guelph, Ontario, the BV sisters also play in a psych rock band called the Folk, which is currently on hiatus so that the pair can concentrate on the darker pop of Bonnie Trash. Featuring distorted guitars, synthetic percussion, and impassioned vocals, Bonnie Trash is a compelling live band that released their first EP, Ezzelini's Dead, in 2017.
FINIS
____________
Stay Out of the Mall XV
Thursday December 15, 2016:
Jennifer Castle is a musician from Toronto, Canada.   Her most recent record of original songs, Pink City, was short-listed for the 2015 Polaris Prize. She has toured extensively throughout North America and Europe.  She has worked alongside visual artists and dancers, most notably as composer for Toronto Dance Theatre's presentation of Henderson/Castle:Voyager, which was presented by The National Gallery of Canada and Art Gallery of Ontario. Her music has appeared in movies by Atom Egoyan and Bruce La Bruce.  She is known both for her ability to write a song that gets stuck in your head and her improvisation technique, which gives her live performance a feeling of fleeting sponteniety.  She is releasing new music spring 2017.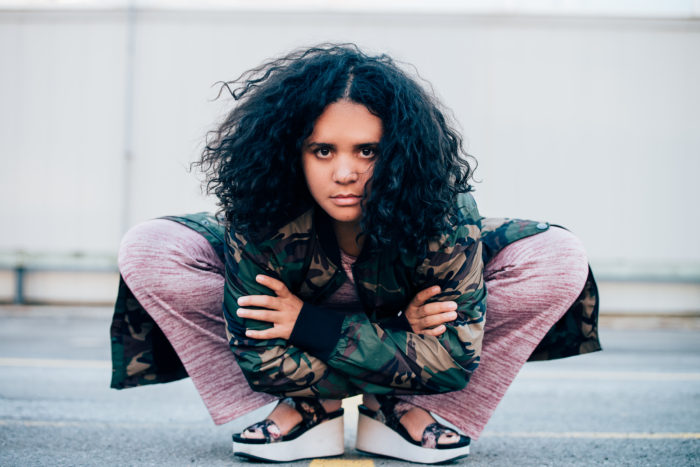 Lido Pimienta (b.1986) is a Toronto-based Colombian born interdisciplinary artist-curator and musician. She has performed, exhibited, and curated around the world since 2002. Her work explores the politics of gender, race, motherhood, identity and the construct of the Canadian landscape in the Latin American Diaspora and vernacular.
In 2010 Pimienta saw the release of her first album Color LP, she toured Latin America, USA and Europe gaining international recognition not only as a music performer but as advocate for Women in technology and Arts and the reformation of immigration policies in Canada. In 2012 she created Bridges, a multi-disciplinary festival featuring artists and musicians from South America and Canada working in similar ways as a way to break with Latin pre-conceptions and in 2013 she created Girl Talkz, a curated show featuring female-up-and-coming performing artists in Toronto. Pimienta released her second album La Papessa, which is one of the most acclaimed albums of 2016.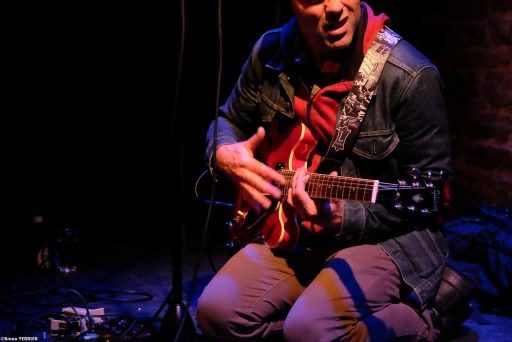 Lo-Fi Pop hero Culture Reject is the musical identity of Toronto's Michael O'Connell. His debut record of home recordings (WhiteWhale Records, CANADA) in 2009, mixed byAndy Magoffin (Constantines, Great Lakes Swimmers, Hidden Cameras) began a cycle of touring the US, Canada, UK and Europe This led to the sophomore vinyl releaseof Forces (Specific Recordings, FRANCE) in 2013. Chasing the "bold, new Canadian Sound…." the growing international audience comes as much out of a love for his dynamic live show as for his underground anthems, "Inside the Cinema," "Blueprint" and "Talkin Easy." Culture Reject is fresh from his 5th solo European tour in support of his latest EP, Heavy Destination Blues.
Friday December 16, 2016

Horsey Craze
Canada's most ragged tribute to Neil Young and Crazy Horse.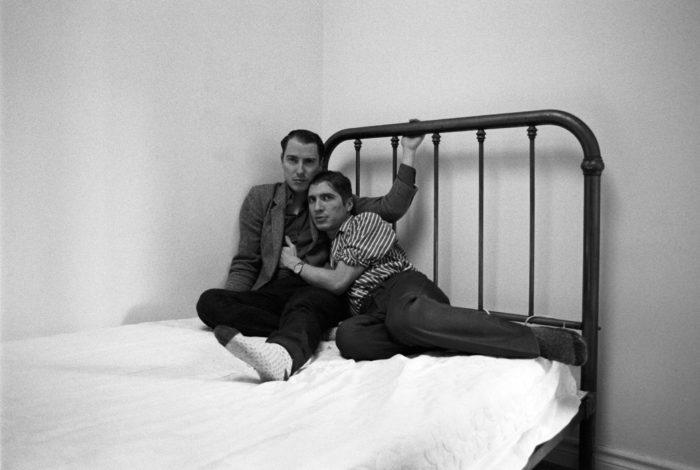 Steamy summer twilights mean it's time to fall for a little night Magic. Blue-eyed synth soul with an '80s bent, The Magic transcend time and place on Night Falling, their long-awaited follow-up to the 2012 debut, Ragged Gold. The duo of Geordie and Evan Gordon spent four years crafting the record, during time off as touring members of Islands. Born in Guelph, Ontario, The Magic (no relation to the Toronto reggae band) was once a full band, featuring old friends and top Toronto players; early drafts of these tracks featured an extended cast and were recorded in L.A. and Cologne. In the hot summer of 2015, however, the brothers scrapped those sessions and retreated to Geordie's non-air-conditioned apartment in Toronto, where the two of them moulded a sparse, haunting new sound that focused on Geordie's ever-evolving croon and falsetto, with sonic nods to Sade, Hall & Oates, Haim and Blood Orange. Evan took the tracks back to the studio in the brothers' childhood home in Guelph (their father, James, is a nationally known folk singer) and fine-tuned Night Falling over the course of a year, with occasional help from Roger Leavens (Diana, Born Ruffians, Owen Pallett). Solid pop songs, spacious synth explorations and Geordie's suave charisma add up to one of 2016's sweetest sonic pleasures. Behold and marvel: The Magic!


Lonely Parade is a band of three egotistical, stubborn childhood best friends from Peterborough, ON who play post-punk indie music. They've been playing together for nearly 5 years, and recently released their second album No Shade through their own label Sleepwalk Tapes.
TIX AT THE DOOR EACH NIGHT:
$15 or $12 w/non-perishable donation for the Guelph Food Bank
The ebar
41 Quebec St. Guelph, ON
AA/Lic.
10 PM Doors
________________________________________________________________________________________
KYEO Presents:
Stay Out of the Mall XIV
An annual benefit for the Canadian Cancer Society towards leukemia research in memory of Sharon Marshall
Starring:
Evan Gordon and the Sad Clowns (music)
Nick Flanagan (comedy)
Blimp Rock (music)
The Making-Box (comedy)
Saturday December 19, 2015
The ebar, 41 Quebec St., Guelph
10 PM, AA/Lic. not wheelchair accessible
$8 w/a non-perishable food donation
$10 w/out
FOR IMMEDIATE RELEASE:
December 2, 2015
Award-winning Stay Out of the Mall concert returns for 14th year
A 'variety show' format features music and comedy to benefit Canadian Cancer Society
The 2015 edition of Stay Out of the Mall, a festive music festival held annually in Guelph, is shifting its format slightly to incorporate legitimate and intentional comedy. We're also back to one day this year, Saturday December 19. Less festival-y but still festive.
Over the past 14 years, the festival has benefitted the Canadian Cancer Society towards leukemia research in memory of Sharon Marshall and collected a lot of non-perishable food items for local drop-in centres, food banks, and neighbourhood groups. In that sense, this year's edition is similar with food donations heading to the Guelph Food Bank.
The major difference this year is we've programmed professional comedians to perform during the festival and we're stoked to announce this year's dynamic line-up.
For underground rock fans, we have a reunion show by Guelph's own Evan Gordon & The Sad Clowns. Since ramping up his work in Islands, Human Highway, his father James Gordon, and with his brother Geordie in the Gordon Brothers (formerly The Magic), Evan Gordon had seemingly retired the Clowns. We were pleasantly surprised when he emailed us about playing a special, rare set at Stay Out of the Mall and, like many others, are super psyched to see the band back in action.
Toronto stand-up comedian Nick Flanagan is one of the most dedicated purveyors of his craft. A singer and writer in punk bands like Brutal Knights and Wrong Hole, Flanagan is a writer on the kids' show Odd Squad and an actor you've likely seen in prominent TV commercials. He's been a correspondent for Chart Attack and Toro and a frequent guest on top podcasts. He's also toured the world over and is a friend and colleague of many of the planet's most respected comics, so it's super rad that he's doing a set in Guelph.
This past October, Toronto-based indie-rockers Blimp Rock launched a campaign to claim $700,000 that the playoff-battling Toronto Blue Jays supposedly owed them for co-opting the phrase #ComeTogether from the 2012 Blimp Rock song "Oh, Baseball." Blimp Rock was not successful, nor were the Toronto Blue Jays. But the band is one of the most clever, funny, and fascinating pop entities going and they're sure to entertain everyone in Guelph. Just don't get on their bad side by appropriating their lyrics.
Guelph's comedy landscape has been wonderfully altered by The Making Box, a new venue (40 Baker Street) and nominal hub for collective improv and stand-up activity. People like Jay Reid have tapped into something highbrow about the form yet remain completely open and accessible to anyone who likes to laugh, while encouraging everyone to explore the comedian within. Here, this crew will take on their Making Box Brigade performing configuration for some interactive hilarity with the audience on-hand. Don't be shy. Everyone is funny to somebody.     
The tentative schedule and details for Stay Out of the Mall XIV are as follows:
Evan Gordon and the Sad Clowns (12:00 AM)
Nick Flanagan (11:30 PM)
Blimp Rock (10:45 PM)
The Making-Box (10:15 PM)
Saturday December 19, 2015
The ebar, 41 Quebec St., Guelph
10 PM, AA/Lic. not wheelchair accessible
Tickets are only available at the door and are $8 w/a non-perishable food donation for the Guelph Food Bank and $10 w/out
More details and details will be available via the event's Facebook page or  KYEO.
Also of note, on December 1, Stay Out of the Mall was recognized, as the 2015 recipient of the Canadian Cancer Society's Celebrating Impact in Community Fundraising Award. According to the CCS, "this award acknowledges true dedication to funding the most promising research to people whose lives are touched by cancer. Through your commitment and support, the Society can continue to engage and involve communities in exceptional ways that strengthen community support. Congratulations and thank you for your tremendous commitment over the years!"
We're honoured and thank everyone who supports Stay Out of the Mall in any way.
KYEO is pleased to announce that excellent Toronto-based rock/soul singer, songwriter, musician, dog walker, and dad Peter Elkas returns to Guelph for a show at the Ebar in Guelph. Harlan Pepper, a wonderful roots-y ensemble from Hamilton with a connection to the Royal City and a new album out this month, join the bill opening for Elkas and his band.
This all-ages concert takes place at the Ebar on Thursday April 3, 2014 with doors opening at 9:30 PM. It will cost $10 with a non-perishable donation for the Guelph Food Bank and $12 without and tickets will only be available at the door. Harlan Pepper will be on at 10 PM, Elkas and his band will be on by 11 PM.
Elkas is marking the 10th anniversary of his celebrated solo debut, Party Of One, with a limited vinyl pressing of the LP and an April residency at The Dakota Tavern in Toronto. The string of shows kicks off on April 1st with Elkas performing the album in its entirety with the original session musicians, Don Kerr (Ron Sexsmith) and Doug Friesen (Bidiniband, John K Samson).
Elkas is also performing dates throughout Ontario for the rest of the month, including a Light Of Day benefit concert at the Molson Canadian Studio in Hamilton Place on April 12th with the Sam Roberts Band. Light of Day Canada is committed to raising money through various events that support research and care for Parkinson's victims and families. Elkas is a coordinator and board member of the organization and has had the good fortune to not only play annual events in New Jersey, but also jam with Bruce Springsteen.
"Light of Day has become an important cause to me," says Elkas. "I am becoming more and more devoted to developing the LOD Canada events with the great friends I've made in the organization. It's been an honor (and actually a lot of fun) to be included in the fight against Parkinson's."
Party Of One was released in 2004 after Elkas' previous act, the Local Rabbits, went on "indefinite hiatus." Expanding upon his songwriting in that band, he kicked against the zeitgeist by crafting soulful pop and rock songs that are AM radio-accessible. Party Of One was produced by Kerr and found Elkas straddling a line between experimental sounds and more traditional songcraft.
The last time Elkas was in Guelph, he headlined a successful month-long residency at the Ebar in support of his most recent LP, 2011's Repeat Offender. We're thrilled to have him back.
Harlan Pepper released their new album, Take Out a Twenty and Live Life to the Fullest on March 11, 2014 via Six Shooter Records. The band has been busy warming up the new material at Toronto's Cameron House every Tuesday night in March.
On the theme of living life to the fullest, here's how the band chooses to spend their $20s (and their twenties):
Dan Edmonds (vocals) – "I like to buy a 6-pack of Pabst Blue Ribbon, and there's usually just enough left to get in to a show downtown. That's an ideal night for me with 20 beautiful bucks."
Thompson Wilson (bass) – "Taking out a $20, going down to a record store and buying as many records as you can from the cheep section. And then using the change to bus home and listen to music the rest of the day…I like Dan's idea better."
Jimmy Hayes III (guitar) – "I'd buy a bag of macaroni and a brick of cheese with my first $10.00. After a quick bite I'd take my final $10.00 to Rolly Rockets in Hamilton for a pint and to see my favourite new jazz-fusion/R & B band, "The Buddy Guys." What a night."
Marlon Nicolle (drums) – "Buy two 40's of Old English and take the rest and put it all on 24 black at the roulette table."
Take Out a Twenty and Live Life to the Fullest is full of sweet grooves, lyrical nonchalance and strong musicianship. From their Steeltown stronghold, Harlan Pepper is quietly fashioning themselves into a rock solid band of considerable depth and ability. We had some of them here in Guelph for a spell, while they pursued their studies. As their Guelph fans can attest, it's great to have them back in town with a new record.

Again:
KYEO Presents:
Peter Elkas Band
+
Harlan Pepper
Thursday April 3, 2014
$10 with non-perishable item for the Guelph Food Bank
$12 without
The Ebar
41 Quebec St. Guelph
Doors at 9 PM
AA/LIC (Not accessible)
Tickets only available at the door
__
Sarah Harmer, Bry Webb, Dusted, more play Stay Out of the Mall XII
Annual Guelph concert benefits Canadian Cancer Society
 The twelfth annual Stay Out of the Mall festival benefitting the Canadian Cancer Society takes place on Thursday Dec. 5 and Friday Dec. 6, 2013 at the Ebar (41 Quebec St.) in Guelph, ON. This year's line-up features the amazing, award-winning Sarah Harmer in an intimate venue for a rare area appearance. Harmer's most recent release is 2010's lovely, spirited Oh Little Fire.
Holy Fuck's Brian Borcherdt returns to Guelph with his other band Dusted, which will likely feature Loel Campbell of Wintersleep on drums. Dusted, who released the acclaimed LP Total Dust earlier this year will headline Thursday evening, while Harmer headlines Friday.
Also on Thursday, Toronto's Marine Dreams, featuring Ian Daniel Kehoe of Attack in Black, play in support of their new album Corner of the Eye. Popular Guelph band Esther Grey, featuring the compelling voice and vision of Steph Yates opens the night, likely playing songs from their latest single, Buttermilk.
On Friday, Bry Webb, formerly of Constantines, walks a few blocks from his home to play just ahead of his colleague and one-time collaborator Harmer. Webb is close to completing the follow-up to his stunning solo debut, 2011's Provider. Grey Kingdom is Spencer Burton (also once a member of the now-defunct Attack in Black), a wily, strange, hilarious bearded figure whose songs stir hearts and banter stirs bladders. In the underground music scene, there is no one more unexpectedly hilarious than Grey Kingdom. As he reads this, he is cursing my name. This will result in even more ludicrous banter. Make him angry. He needs it.
Tickets to each evening of Stay Out of the Mall XII are available online now via ticketbreak.com and in-person at the Bookshelf (41 Quebec St.) in Guelph. There is a Facebook event page for Thursday and also one for Friday. Updates and info will be posted there and also here.
Some of this info is available below.
In support of the Canadian Cancer Society
towards leukemia research in memory of Sharon Marshall
In support of the Canadian Cancer Society
KYEO Presents:
 Stay Out of the Mall XII
A Festive Music Festival
 Thursday December 5, 2013:
 Dusted / Marine Dreams / Esther Grey
 $10 with non-perishable item for the Guelph Food Bank
$12 without
Friday December 6, 2013:
 Sarah Harmer / Bry Webb / Grey Kingdom
 $18 with non-perishable item for the Guelph Food Bank
$20 without
The Ebar
41 Quebec St. Guelph
Doors at 9 PM
AA/LIC (Not accessible)
 Tickets for both evenings available now via ticketbreak.com and the Bookshelf (41 Quebec St)
____
Wednesday Oct. 30, 2013
KYEO presents:
AroarA
 (Montreal; Broken Social Scene, Land of Kush)
AA/Accessible (bathroom only partially)
8:00 PM doors; 8:30 PM show
$12
__
Tuesday Sept. 17. 2013
46 Essex St.
All-ages/Accessible
$10
doors at 7:30 PM, show at 8:00 PM, done by 10:00 PM
Snacks and beverages will be served
Facebook
KYEO & CFRU 93.3 FM Present:
John K. Samson & The Provincial Band (John is in the Weakerthans)
+
Mike O'Neill (Mike was in the Inbreds)
Wednesday March 21, 2012
The Ebar – 41 Quebec St. – Guelph
9:30 PM
AA/LIC (Not Accessible)
$14 with non-perishable item for the Guelph Food Bank
$16 without
Tickets Available at the Bookshelf (NOW) and the Door (THEN)
John K. Samson is the singer and songwriter for the highly acclaimed indie rock band, The Weakerthans. On January 24th, Samson will release a full length solo album, Provincial via Epitaph-Anti Records.
The live dates will feature songs from the new album backed by The Provincial Band, comprised of Shotgun Jimmie on guitar, Doug Friesen (Pete Elkas, Bidiniband) on electric and upright bass and Doug MacGregor (Constantines) on drums. Samson will also perform a selection of solo renditions of material spanning his 20 years as a songwriter.
Mike O'Neill has announced the release of his highly anticipated new album, Wild Lines. Following his previous solo outings What Happens Now? (2000) and The Owl (2004), the former Inbreds frontman's latest offering is available on February 28, 2012.